Tampilkan accesories tipe: Speaker Portable
0700093F
Compatible dengan: Universal device
Adalah sebuah speaker dari Vivan yang terbuat dari Aluminium alloy molding dan anodized surface yang tahan korosi. Speaker ini tergolong mini ukuran dengan output 20W.
Selain itu, memiliki DSP chip boost berfrekuensi rendah, efek bass yang besar, secara bertahap meningkatkan volume dari volume kecil dan bass sangat menakjubkan saat volume di 50%. Mendukung sambungan Bluetooth nirkabel, dukungan handsfree dan fungsi AUX. Mikrofon reduksi kebisingan definisi tinggi, dan dukung panggilan suara. Tersedia status koneksi Bluetooth, jarak transmisi bebas hambatan hingga 10 meter. Volume maksimum bisa bermain sekitar 3 jam, 60% dari volume bisa diputar sekitar 6 jam. Speaker ini dilengkapi Dengan silikon tahan goncangan di bagian bawah. Dengan lampu dekoratif ringan bergaya di bagian atas, bisa juga menekannya untuk mencapai fungsi tombol. Speaker ini di Desain daya rendah: bila tidak ada input sinyal audio, maka akan otomatis shutdown setelah 10 menit. Waktu pengisian sekitar 2.5 ~ 3h untuk terisi penuh. Cocok untuk Portablefor ruang tamu, kamar tidur dan di luar ruangan.

Merek Vivan
Model VSB900
Versi Bluetooth V4.0
Tegangan DC 5V / 2A
Output 10W x 2
Kapasitas Baterai 2000mAh x 2
Frekuensi 80Hz18KHz
Impedansi 8
Intensitas kebisingan 80dB
Jangkauan nirkabel 10M
Distorsi 1

0700028A
Compatible dengan: All device
Speaker Robot RS130 Wooden Multimedia Desktop Black
Spesifikasi Produk:
- Brand: Robot
- Model: RS130
- Voltage: DC5V
- Impedance 4
- Power: 2.5Wx2
- Netweight: 550g
- Size: 166x90x69mm

Pengenalan Produk
fitur:
1. Speaker kayu Tradional, anggun dan indah
2. Bentuk yang sangat baik, efek suara yang besar
3. Cocok untuk menghubungkan PC, ponsel dan perangkat musik lainnya dengan 3.5mm AUX
0700023E
Compatible dengan: All device

Brand: Vivan
Model: VS260
Voltage: DC5V
Impedance 4
Power: 3Wx2
Netweight: 1200g
Input: 3.5mmaudioport

Pengenalan Produk
Feature:
1. Wooden material, simple and stylish
2. Excellent loudspeaker, hi-fi sound effect
3. With hook in the back, can be hung on the wall
4. USB powered, convenient to use
5. Compatible with phone, tablet, PC and other music devices with 3.5mm AUX
0700037
Compatible dengan: All device
Fabulous little music gem!
Bluetune-Bean is a portable wireless Bluetooth speaker
with powerful microphone capability; it works with
iPhone, iPad or any other Bluetooth-enabled devices
the incredible sound quality with such a small speaker.
* Works with iPhone, iPad and any other Smartphone
* Crystal clear and loud sounds for outdoor use
* Microphone capability makes it easy to take and make
calls hands free or in a group
* The fun, playful and colorful design makes it can be a
* Each unit comes with a carabiner for hooking on a belt
Dimensions:

68L * 45W * 92Hmm
Driver Size:

50 mm micro driver
Signal to noise ratio:

75dB
Frequency response:

60-20000HZ
Bluetooth compliant:

V3.0
Bluetooth profile support:

A2DP Stereo
Battery Capacity:

400 mAh
Battery charge time:

Minimum 2 hours
A53
Compatible dengan: Universal device
Speaker DIVOOM Airbeat-10 merupakan speaker portable yang tahan terhadap percikan air "splash proof" berteknologi bluetooth yang built in microphone. Speaker Airbeat-10 ini dapat dihubungkan dengan perangkat yang memiliki koneksi dengan bluetooth seperti Iphone, Smartphone, laptop.Speaker ini juga dapat dihubungkan via kabel line-in. Speaker ini memiliki aksesoris berupa mangkuk penyedot "suction cup" hingga speaker dapat menempel di permukaan halus seperti kaca dan ada juga Holder untuk sepeda.

TERSEDIA WARNA HITAM, BIRU DAN MERAH

Features :
* Mendengarkan musik tanpa kabel melalui bluetooth
* Splash proof and design portable, cocok digunakan saat dipantai, Kolam renang atau Saat mandi
* Speaker berkualitas tinggi, dengan kualitas suara yang jernih dalam bentuk yang mini
* Tersedia Microphone untuk menjawab panggilan telpon
* Baterai tahan hingga 6 Jam


Spesifikasi :
* Dimensions : 87L x 78W x 45H mm
* Driver size : 2"(53mm)
* Output power : 3.5W
* Signal to noise ratio : 75dB
* Battery Capacity : 500 mAh
* Battery Voltage : 3.7 V
* Battery Charge Time : 2.5 hours
* Wireless Range : Up to 10 meters
* Bluetooth compliant : Bluetooth V3.0
* Bluetooth profile support : A2DP Stereo
* Talk Time : Up to 6 hours
* Microphone sensitivity : -40 db
HF102
Compatible dengan: Universal device
Portable Wireless Speaker Pulse Pill LED Light Flash Loud Speaker DEVIL RAYS STEREO BLUETOOTH SPEAKER HL-201
The bluetooth V2.1+EDR wireless module

Support simple pairing,bluetooth automatic back to even

The bluetooth transmission distance of 10m

Upper and lower control

Volume control

Pause playback function

TF card play function

The built-in lithium electricity,micro USB charging
Bluetooth V2.1 + EDR Wireless Module

LED Change Color Lights

Bluetooth transmission distance of 10m

TF Card Play Function
0700073A
Compatible dengan: Universal device
The JBL Micro Wireless is the first ultra-portable speaker featuring a Li-ion rechargeable battery, built-in bass port and wireless Bluetooth connection. With a 1-5/8-inch (40-millimeter) driver, it delivers full-range JBL sound with exceptional bass – yet it fits easily in backpacks or clips onto clothing. You can wirelessly stream audio to the speaker from any Bluetooth-equipped mobile phone or tablet, or use the included audio cable to connect the speaker to any mobile device or MP3 player. You can even daisy-chain with other JBL Micro Wireless speakers for a powerful sonic experience.
Bluetooth Technology
The JBL Micro Wireless portable speaker streams music wirelessly from any Bluetooth-equipped mobile phone or tablet, making JBL sound available for a wide range of portable devices. It's a wireless wonder.
Built-in Bass Port
JBL speakers are famous for powerful bass. But it might surprise you to hear JBL bass this strong from a speaker this small. A built-in bass port enables the JBL Micro Wireless to generate bass that's superior to comparable portable products.
Five-hour, Li-ion Rechargeable Battery
The JBL Micro Wireless portable speaker has a built-in Li-ion battery that provides up to 5 hours of playback time. You can easily recharge the battery using a micro USB port, which saves you battery hassles and money.
Daisy-chain Capability
If you want to add some "macro" to your Micro, you can connect the JBL Micro Wireless portable speaker to other JBL Micro Wireless speakers, creating an impressive sound environment.
At a Glance:
Bluetooth technology
Built-in bass port
Five-hour Li-ion rechargeable battery
Portable design
Smart-cable design
LED indicator
Daisy-chain capability
0700070
Compatible dengan: Universal device
Nikmati musik di berbagai waktu dan tempat yang Anda inginkan dengan speaker portabel yang praktis dan mudah dibawa kemana saja dari JBL satu ini. JBL Go hadir dengan tampilan desain minimalis dan balutan warna yang menarik, membuat speaker ini terlihat keren dan memukau. Disempurnakan pula dengan kemudahan konektivitas nirkabel yang membuat speaker ini dapat memutar lagu kesukaan Anda tanpa repot. Speaker unik ini juga dilengkapi dengan baterai 600 mAh yang bertahan selama 5 jam untuk memutar musik dan menemani Anda berkegiatan. JBL Go hadir untuk menjadi solusi bagi Anda untuk menikmati musik dan sahabat bagi segala jenis gadget Anda.

Konektivitas
Speaker ini memiliki konektivitas yang serba praktis dengan gadget Anda, dengan kabel ataupun nirkabel. Konektivitas ini membuat speaker ini kompatibel dengan segala jenis gadget. Anda dapat pula menggunakan kabel aux ataupun bluetooth untuk menggunakan speaker ini.

Kualitas Suara Prima
JBL selalu memberikan yang terbaik untuk kualitas suara. Speaker kecil nan praktis ini memiliki suara output yang jernih dan seimbang antara suara bass treble. Disempurnakan pula dengan teknologi noise cancellation untuk mempertahankan kualitas suara output, terutama saat digunakan untuk menerima panggilan.

Spesifikasi :
Jumlah Speaker : 1
Controls : Switch, Bluetooth, Volume Control, Call Control
Source Input : Battery
Function : Echo and Noise Cancellation
Pwr Output RMS : 1 x 3 Watts
Connectivity : Bluetooth, Aux-in
Battery Life : 5 Hours
Battery Cap. : 600 mAh
Dimensions : 82.50 x 29.95 x 67.91 mm
0700094
Compatible dengan: Universal device
Adalah sebuah speaker dari vivan yang memiliki Versi Bluetooth 4.1. Dengan tombol sentuh ringan bergaya di bagian atas, ujung jari diputar untuk menyesuaikan volume, gunakan secara normal bahkan dalam kegelapan. Speaker ini memiliki mikrofon pengurangan kebisingan definisi tinggi, dukung panggilan suara, dan dapatkan jawaban panggilan telepon. Di dukung dengan Bluetooth, kartu TF dan fungsi AUX. Speaker ini memiliki jarak transmisi bebas hambatan hingga 10 meter. Volume maksimum bisa bermain sekitar 4 jam, 60% dari volume bisa bermain sekitar 8 jam. Selain itu, memiliki IC penguat digital berkualitas tinggi, tanduk magnetik internal ganda, diafragma bass dan distorsi rendah menjamin efek suara yang sempurna. Cocok untik Portablefor ruang tamu, kamar tidur dan di luar ruangan. Speaker ini di lengkapi Dengan silikon tahan goncangan di bagian bawah dan memiliki beberapa fitur, diantaranya :

Fitur treble: bersih dan terang
Fitur Alto: efek vokal yang bagus dan suara lembut
Fitur Bass: dengan diafragma bass, efek bass tebal
Speaker ini memilii Desain daya rendah: bila tidak ada input sinyal audio, maka akan mati otomatis setelah 10 menit.

Merek Vivan
Model VSB820
Versi Bluetooth V4.1
Masukan DC 5V / 2A
Keluaran 7W x 2
Frekuensi 40Hz18KHz
Impedansi 4
Intensitas kebisingan 80dB
Distorsi 0.5
Jangkauan nirkabel 10M
Kapasitas Baterai 1800mAh x 2

---
0700041O
Compatible dengan: All device

Speaker Remax M8 dengan koneksi bluetooth ini memiliki design unik dengan bentuk seperti persegi. Bagian body terbuat dari bahan material aluminium yang modis dan kokoh. Speaker ini mampu menghasilkan suara yang besar dengan kualitas suara yang jernih.
Features
Optimal Audio Quality
Speaker Remax M8 ini mampu menghasilkan suara yang besar dan kualitas suara yang jernih.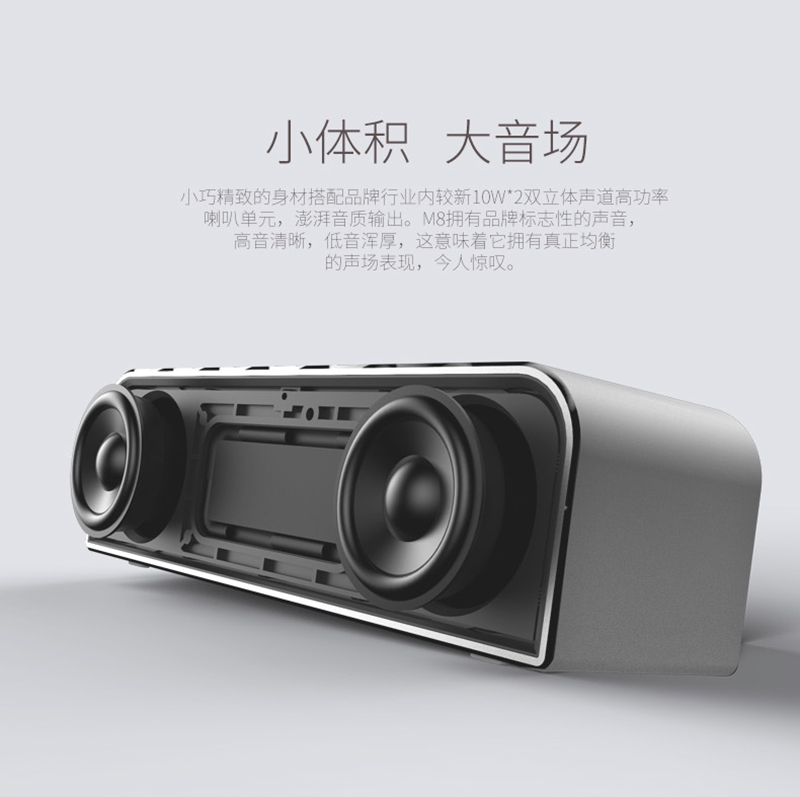 Portable Design
Memiliki memiliki design unik dengan bentuk seperti persegi. Bagian body terbuat dari bahan material aluminium yang modis dan kokoh.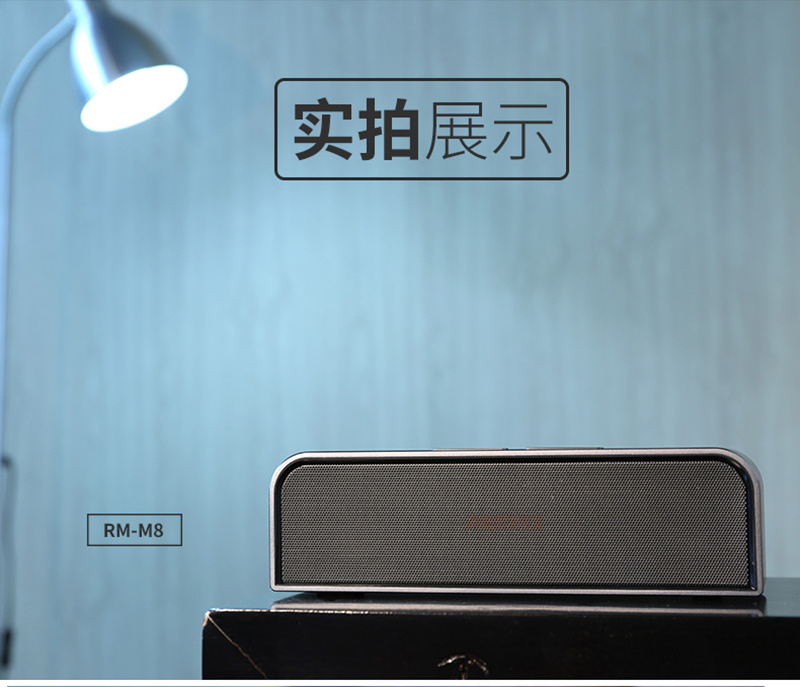 Bluetooth Connectivity
Menggunakan koneksi bluetooth untuk menghubungkan antara speaker dan smartphone. Anda dapat memutar musik dari jarak jauh tanpa perlu menyentuh speaker.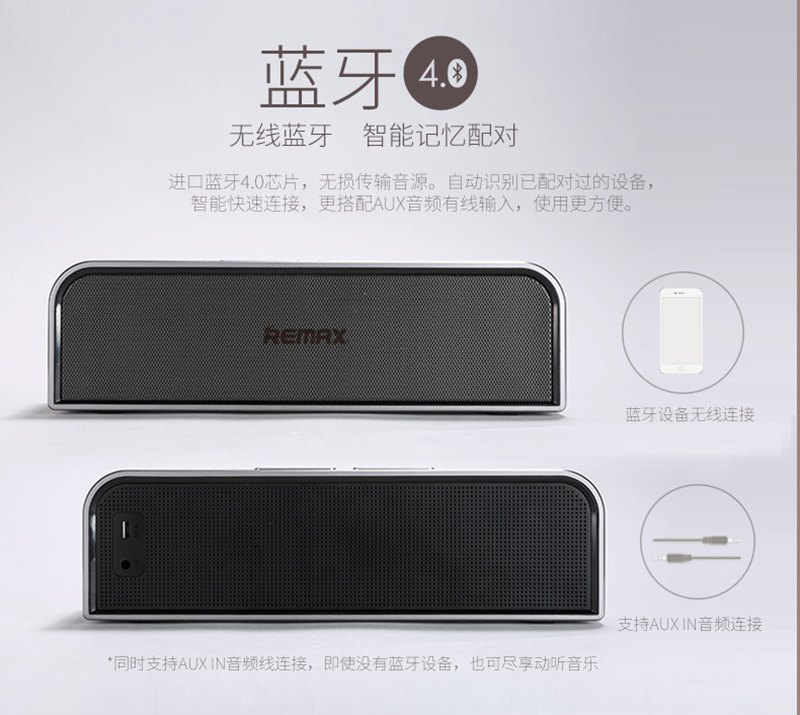 A138
Compatible dengan: Universal device
Divoom Voombox Outdoor Speaker, speaker portabel persembahan Divoom ini siap menjadi teman setia untuk mendengarkan musik secara maksimal selama Anda berada di luar ruangan. Bekerja dengan koneksi sistem bluetooth 4.0, speaker ini dapat dengan mudah terhubung dengan berbagai perangkat seperti smartphone, tablet maupun laptop. Dengan fitur tahan airnya, nikmati kualitas output audio yang dahsyat dari speaker berukuran kecil ini.
TERSEDIA WARNA HITAM DAN BIRU
Features:
Rugged, water resistant and built for the outdoors.
Advanced audio performance delivers a full-range listening experience.
12-hour rechargeable battery that gives you non-stop music from dusk till dawn.
Connect wirelessly to your smartphone, tablet PC or other Bluetooth device by lastest 4.0 Bluetooth technology.
Built-in microphone to make and take calls wirelessly on your own or in a group.
Specifications:
General Specification

Brand Name

Divoom

Model Number

Voombox-outdoor

Optional Color

Red, Blue, Green, Black

Product Weight (kg)

0.700kg

Dimensions (cm/ inch)

185H*60W*78Hmm
Technical Parameters

Bluetooth Version

V4.0

Wireless Range

Up to 10m

Speaker

2X2''(full range) + 1''(tweeter) + 2''(passive woofer)

Output Power

7.5WX2

Frequency Response

100-20000Hz

SNR

≥75dB

Distortion

<

1%

Playback Time

12 hours

Talk Time

15 hours

Battery Capacity

3200mAh
Battery Voltage
3.7V
Battery Charging Time
2-3 hours
Operating Frequency Response
2.4GHz-2.4835GHz
Microphone Sensitivity

-40dB
0700097A
Compatible dengan: Universal device
. Wireless Bluetooth Streaming
. Built-in baterai yang dapat diisi ulang
. Built-in Microphone
. Wireless Dual Sound
. Battery type : Lithium-ion Polymer (3.7V, 3000mAh)
. Lama charge baterai 3 jam
. Baterai dapat bertahan hingga 10 jam
. Berat 600 gram
. Power supply 5V 2.3A
. Output power : 2 x 8W
. Frekuensi 75Hz – 20kHz (-6dB)
Wireless Bluetooth Streaming, alirkan musik secara nirkabel melalui Bluetooth untuk menikmati suara mengisi ruangan. Hubungkan hingga 3 perangkat cerdas sekaligus dan bergiliran bermain musik.
Rechargeable Battery, built-in rechargeable Li-ion battery yang dapat bertahan hingga 10 jam.
Built-in Microphone, harman noise and echo cancelling technology memberikan kualitas suara yang bening.
Wireless Dual Sound, secara nirkabel hubungkan dua speaker Harman Kardon Wireless Dual Sound untuk meningkatkan pengalaman mendengarkan musik Anda.
0700069
harga awal: Rp. 3.000.000
Compatible dengan: Universal device
Streaming music secara nirkabel melalui koneksi bluetooh untuk menikmati suara yang mengagumkan dalam ruangan. Sistem audio ini juga dapat menghubungkan 3 perangkat dengan bermain music secara bergantian. Di desain dengan bahan high-end sehingga menghasilkan sebuah speaker portable mewah, yang ikut menghiasi ruangan anda serta desain iconic Harman. Anda dapat menikmati musik hingga 5 jam dengan baterai yang dapat di isi ulang. Selain memikmati audio yang mengagumkan pengguna juga dapat melakukan panggilan telepon dengan suara jelas terperinci.
READY WARNA HITAM DAN PUTIH

Features
· Wireless Bluetooth Streaming
Rechargeable Battery
Memberikan panggilan suara yang jernih
Wireless Dual Sound
Premium Materials
Bluetooth transmitter modulation

Spesification:
GFSK, /4 DQPSK, 8DPSK
Dimensions (H x W x D) in (mm)

278.0 x 162.8 x 258.0
Rated power

4x15W(AC mode); 4x7.5W(Battery mode)
Battery charge time

5hours
Bluetooth transmitter frequency range

2402MHz - 2480MHz
Signal-to-Noise Ratio

80dB A-weighted
Bluetooth version

4.1
Battery type

3.7V/2600mAh Lithium-ion
Power supply

19V/2A
Music playing time

up to 5hours (Varies by volume level and music content)
Bluetooth transmitter power

0 - 9dBm
Support

A2DP 1.3 AVRCP 1.5 HFP 1.6
Weight (g)

2071g
AUDIO SPECIFICATIONS:

Frequency Response

50Hz-20kHz(-6dB)
Transducers
Page 1 of 1