Tampilkan accesories gadget: Apple | model: Handsfree
0700074B
Compatible dengan: Iphone
VR Apple iPhone 5 Original Handsfree Headset Earphone - White merupakan headset yang dapat menghasilkan suara berkualitas. Headset ini memberikan kualitas audio dan isolasi suara saat Anda sedang mendengarkan musik pada perangkat Anda. Headset ini dilengkapi tombol untuk menjawab dan mengakhiri telepon. Headset ini dapat digunakan hampir semua merk smartphone dengan jack A/V 3.5mm.
Headset
Dapat menghasilkan suara berkualitas
Dilengkapi tombol untuk menjawab dan mengakhiri telepon
Memberikan kualitas audio dan isolasi suara saat Anda sedang mendengarkan musik
Dapat digunakan hampir semua merk smartphone dengan jack A/V 3.5mm
0700050B
Compatible dengan: Iphone
Compatible with all Apple iPods and digital players that work with a 3.5-millimeter mini-jack, the Apple earphone are designed for comfort. This universal accessory has a sleek design and delivers crystal clear sound quality and bass response, whether you're listening to your favorite tunes while working at your desk, running on the treadmill, or relaxing at home. Compact and ultra-portable, these earbud-style headphones fit easily in your pocket or bag so you can grab them and go.
Features
Optimal Audio Quality
Rich, detailed, and accurate sound reproduction and amazing bass response for all types of music.
Plug and Play
Simply plug these earphone into your USB port or you can use optional AC adapter and enjoy your music anywhere! No need to instal driver or any other software.
Compatibility
Compatible all device that have 3.5mm audio jack.
Video YouTube yang ditampilkan hanyalah ilustrasi fungsi dan penggunaan produk. Kami tidak menjamin barang kami 100% mirip dengan produk dalam video YouTube tersebut.
Photos of Apple EarPods Earphones for iPhone 5/5s/6/6+/iPod (Original)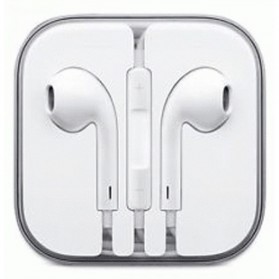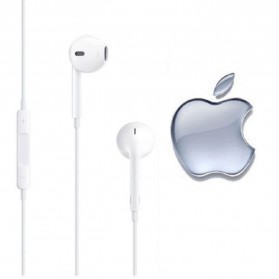 0700065B
Compatible dengan: Iphone 5/6
Earphone Original iPhone 5 & 5s dengan kualitas suara yang mengagumkan untuk mendengarkan musik dan juga menerima telepon (handfree). Headset buatan Apple ini memiliki fitur built in mikrofon yang bisa melakukan panggilan dan sebuah kontrol untuk volume layaknya headset biasa. Tombol Fungsional Dilengkapi dengan 3 fungsi tombol untuk next, previous, play, pause for music dan juga tombol untuk mengangkat telepon dan mematikan telepon masuk. Nyaman Ditelinga Headset Apple dirancang untuk berada nyaman di dalam berbagai jenis telinga. Kualitas audio yang sangat unggul, membuat aksesoris ini menjadi saingan dari headphone high-end yang harganya lebih MAHAL. Kompatibel semua perangkat yang memiliki jack audio 3.5mm. Kompatibel dengan semua Apple iPod dan pemutar digital yang bekerja dengan 3,5 milimeter mini-jack, earphone Apple dirancang untuk kenyamanan. Handfree ini memiliki desain ramping dan memberikan kualitas suara dan bass respon yang jernih, apakah Anda sedang mendengarkan lagu favorit Anda saat bekerja di meja Anda, berjalan di atas treadmill, atau bersantai di rumah. Kompak dan ultra-portabel, headphone earbud gaya ini cocok dengan mudah dalam saku atau tas sehingga Anda dapat mengambil mereka dan pergi. Fitur yang tersedia : Kualitas Audio Optimal Kaya, rinci, dan akurat reproduksi suara respon bass yang luar biasa untuk semua jenis musik. Cukup pasang earphone ini ke port USB Anda atau Anda dapat menggunakan adaptor AC opsional dan menikmati musik Anda di mana saja! Tidak perlu instal driver atau perangkat lunak lainnya.
Page 1 of 1